#FFFFFF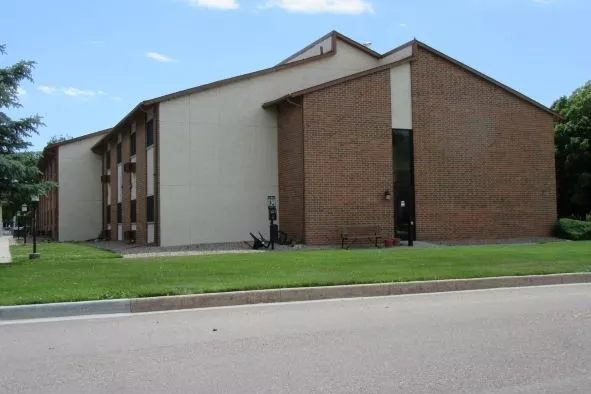 Grinde Manor is a public housing apartment complex for eligible low-income families and individuals. There are 40 one bedroom apartments located in this two story secure building with intercom system.  The building has an elevator, on-site laundry, a large community room, outdoor patio space and off-street parking.  Each apartment includes a full kitchen, large storage closet, through-the-wall air conditioner and a pull cord system for emergencies.
Grinde Manor is located at 906 Grinde Drive in Fountain, Colorado and is close to medical facilities, the Fountain Valley Senior Center, shopping, parks and recreational opportunities.
Grinde Manor is a smoke free community.
#FFFFFF
Eligibility to reside at Grinde Manor is limited to low-income families and individuals that are elderly or disabled.  The Housing Authority will use the income limits published by HUD to determine income eligibility.  If you are eligible, the Housing Authority will run a background check and contact your references to make sure that you will be a good tenant.  
Individuals and families may apply for residency at Grinde Manor at any time that the waiting list is open.  Applicants must supply information on income, assets, family characteristics and any other information that the Housing Authority will need to verify income, deductions, family composition and suitability for residency.  
To check if the Housing Authority is accepting applications for Grinde Manor, please click Apply Here.
Resident rent is based on each resident's anticipated gross annual income less any allowable deductions and, is generally 30% of the resident's monthly adjusted income.  A resident may also choose to pay the flat rent for Grinde Manor which is equal to 80% of the Payment Standard for a one bedroom apartment under the Housing Choice Voucher Program.  Resident rent includes basic utilities.  Residents must pay for their own telephone, television and internet service.
The Housing Authority has adopted an Admissions and Occupancy Policy for administering the public housing program at Grinde Manor.  View the Admission and Occupancy Policy.
In addition, Resident's of Grinde Manor have available a Grievance Procedure to address issues that may arise during their residency.  View the Grievance Procedure. 
Grinde Manor is a smoke free community.  View the Smoke Free Policy.